&nbsp&nbsp&nbsp&nbsp&nbsp&nbsp&nbspThe conference will be held at the Marina Smir Thalasso Hotel & Spa with a specific offers are provded to
&nbsp&nbsp&nbsp&nbsp&nbsp&nbsp&nbsp&nbspthe participants of the congress.For your reservations of rooms, we ask you to contact Marina Smir Hotel
&nbsp&nbsp&nbsp&nbsp&nbsp&nbsp&nbsp& Spa to the +212 (0) 5 39 97 12 34 or by e-mail on the following address : &nbspsales@hotel-marinasmir.com
&nbsp&nbsp&nbsp&nbsp&nbsp&nbsp&nbsp&nbspSpecial promotional price for congress participants:
&nbsp&nbsp&nbsp&nbsp&nbsp&nbsp&nbsp&nbsp&nbsp&nbsp&nbsp&nbsp&nbsp&nbsp-&nbsp&nbspSingle room in BB : &nbsp890 dhs &nbspper night
&nbsp&nbsp&nbsp&nbsp&nbsp&nbsp&nbsp&nbsp&nbsp&nbsp&nbsp&nbsp&nbsp&nbsp-&nbsp&nbspRoom double in BB : &nbsp990 dhs &nbspper night
&nbsp&nbsp&nbsp&nbsp&nbsp&nbsp&nbsp&nbsp&nbsp&nbsp&nbsp&nbsp&nbsp&nbsp-&nbsp&nbspTax : &nbsp39,60 dhs &nbspper night
Hotel Marina Smir Tetuan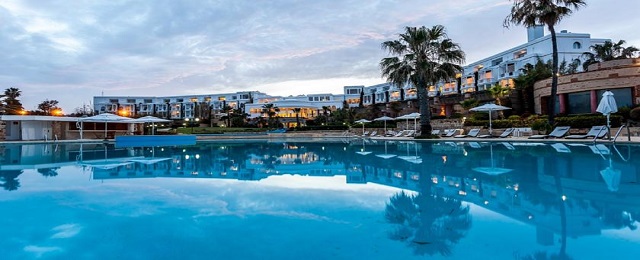 &nbsp&nbsp&nbsp&nbsp&nbspA magic place
Fine sand beaches as far as the eye can see, a limpid sea backed by a superb hilly hinterland offering amazing landscapes. Welcome to Marina Smir, a magic place North of Morocco and South of the Mediterranean Sea. It is in the midst of these privileged surroundings, halfway between Sebta and Tetouan. that you will discover Marina Smir Thalasso & Spa,a splendid edifice of Andalusian style facing the infinite ocean.
&nbsp&nbsp&nbsp&nbsp&nbspA privileged location
The Marina Smir THALASSO & SPA, located only a few minutes away from the towns of Tetuan and Ceuta enjoys a unique sea front location offering direct access and superb sights on a pristine fine-sand beach. The hotel of Andalusian-moorish inspired architecture is nested in the midst of splendid gardens and lush vegetation to make it a serene and quiet place for relaxation.
characteristics of the city

Tetuan is the Hispano-Moroccan city of Morocco. cultural center of the region of Tangier, Tetuan is marked by the Andalusian culture. This gives it a unique character. Tetuan is also a cosmopolitan city. Since 1997, the kasbah, small houses and palaces have preserved an Andalusian architecture and Medina of Tetuan is listed as World Heritage by UNESCO.
number of inhabitants
Tetuan inhabitants more than 320,000 inhabitants (estimated 2004) .
History
It was the third century before J.-C. when Tetuan was founded. It was rebuilt in the late fifteenth century by Sidi Ali Al-Mandari to become a venue for the Andalusian civilization. The sixteenth and seventeenth centuries, Tetuan known military confrontation with Spain and Portugal and trade with Europe grows from the eighteenth century. In the nineteenth century, Tetuan is facing several humanitarian disasters like the great plague in 1818, then the famine in 1825. In 1860, the Spanish troops invade the city and retire in 1862, after the payment of compensation which ruins the economy. It was not until the twentieth century that Tetuan experienced a new political development, economic and artistic, as the capital of the Spanish protectorate in northern Morocco.
geography
Tetuan is in the north of Morocco and the mountains of the western Rif, on the coast of merd'Alboran. The city is located 60 kilometers from Tangier.
How to get around town?
The city of Tetuan offers bus and taxi to get around. It is convenient to move around the city thanks to the many bus lines. Collective and individual taxis offer their services in Tetuan.